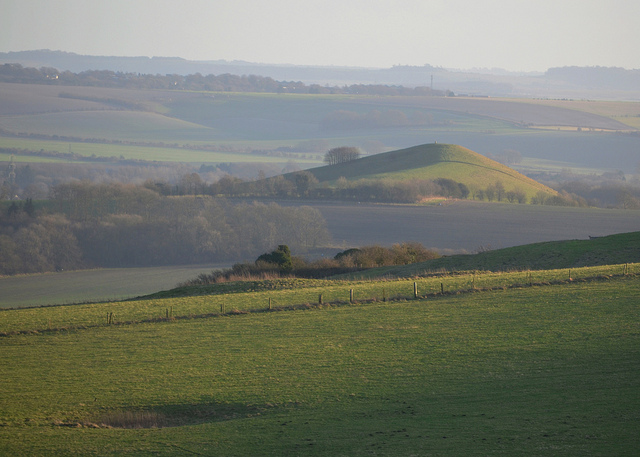 For the past two weeks I've been reading, or rather struggling through, Richard Jefferies' Wild Life in a Southern County. This classic of nature writing was something I had been looking forward to reading, not least because the place it describes is not dissimilar to the chalk uplands close to my own childhood home. So why am I struggling so much with this book? Is it a problem with the writing or with me as a reader? I'm still trying to figure this out. Jeffries' writing style can be intense. It is a bit like constantly looking at the world through magnifying glasses and binoculars. Detail piles on detail, and it seems as if nothing escapes his exacting gaze. Wild Life in a Southern County begins in the chalk downs and then follows the course of a stream through field and hedgerow, into a village, past a farmhouse, to an orchard, water meadows and an ash copse. The world evoked is one Jefferies knew well, that of a rural farming life that had barely changed in its traditions for centuries, but that was, in the 1870s, beginning feel the effects of an economy transformed by industrialisation. Jeffries takes care, not only to describe nature, but also people and the communities, charting their habits and behaviours much as he would do those of a rook or a starling. In this regard this book also reads somewhat like an early work of ethnography, describing the role of the tinker, the cobbler, and the millwright in village life. All well and good, perhaps?
There is much that beguiles. The description of a hawk's flight in the opening chapter 'Downs', 'partly on one side, like a skater sliding on the outer edge',  or that of the starlings' evening mummerations —'a black streak shoots upwards, spreads like smoke, parts in two, and wheels round back into the firs again.' There is a precision here that stems from long acquaintance with this environment. If this book forwards any thesis, it is that the natural world does not act out of a mere infallible instinct, but that it is instead intelligent in its experiments. It is a theme Jefferies returns to on a number of occasions, describing the manner with which a line of ants, when encountering a barrier that disrupts their journey, will scout about until they find a way to bypass the obstacle, or the way sand martins pecked and dug at the mortar of an old wall, before abandoning the site. Of the latter Jefferies concludes  that 'the incident was clearly an experiment, and when they found it unsuccessful they desisted'.
One of the recent criticisms cast at nature writing in the wake of the recent contemporary upsurge of the genre is that landscape resists and transcends language, so that nature writing is thus a somewhat anthropomorphising enterprise. I feel that this sort of criticism rather misses the point that Jefferies seems instinctively to understand, that man, and his language, are not alien to the landscape but are as much a part of nature as a blackbird and its song. 'The song that the lark or finch must sing' is for Jefferies an indication how 'the sense of living —the consciousness of seeing and feeling— is manifestly intense in them all' and so to for the shepherd lad playing 'from his heart and to himself' on his wooden whistle so that 'his simple notes harmonise with the open plain, the looming hills, the ruddy sunset'. There is, of course, a romanticisation going on here, but one that favours man as part of, rather than opposed to, the natural world. Jefferies only seems to describe the natural world in relation to the working man, the labourer, and the fieldworker, whereas the gentleman farmers and rural elite are curiously absent from most of his observations. It would perhaps be unfair to accuse Jefferies of being the rural Mayhew, but there is a sense that the 'backwoods of primitive England' which he describes are an abstraction from the political reality of rural life during the long depression of the nineteenth century.
So why is it that I fail to fully engage with Jefferies? I think it is partly because Jefferies the individual rarely comes into focus in his writing. I found myself wanting to know a little more about his purpose, his background, some autobiographical revelations that would place his observations into a context. There is hardly anything of this, beyond occasional references to hunting the very animals he describes, which doesn't exactly endear him to a twenty-first century reader. Perhaps we are now used to encountering books which seamlessly blur the generic boundaries of autobiography and nature writing in a manner that would have seemed alien to Jefferies. And so I find myself reluctantly admitting my own failure as a reader who has become spoiled by the gains made through literary experimentation.