I've always rather liked Autumn. It is a rich time, a time to bring in the harvest, enjoy the plenty. I spent a month of summer in the winter of Buenos Aires, a city I've been visiting regularly for nearly a decade, and a city which I seem never quite to fully grasp, or rather my understanding of it never comes fully into focus. Before I left for Buenos Aires I pitched a couple of essays to Litro magazine. I wanted to experiment with a form of writing unfamiliar to me, an old fashioned sort of essay; subjective, creative, but nevertheless holding within it some kind of argument or thesis. I also wanted these essays to be a way of working through ideas for my fiction writing, particularly my novel in progress The Museum of Lost Houses. The first essay came on the back of a walk around my barrio. My family had left me to my own devices, so I was fully able to think, write, read as I saw fit. The walk was a way into the writing. In my diary I made a note of 'the number of old houses that remained hidden in the back streets.' The old houses of the city have long been a preoccupation of mine. I am fascinated with the way they seem to disappear under building projects, almost overnight, and of how their absence continues to haunt the places they left behind. This basic idea resulted in the essay 'The Old Houses of Belgrano' which Litro published online in September 2014. It can be read by clicking on the picture below: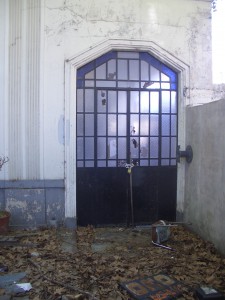 The next essay was written in response to my visit to ESMA, the former School of Naval Mechanics, which doubled as one of the most active clandestine centres during the military government. It is a troubling place to visit, because of its past, yes, but also because of the undeniable tranquillity of its grounds, because of the odd tension that exists between the ugliness of the past and the beauty of the present. We visited it twice, and the second visit, on Children's Day, when one of the cultural centres on the site was holding a celebration, forms the basis of my second essay, also published by Litro in September. It can be read by clicking on the stop sign below: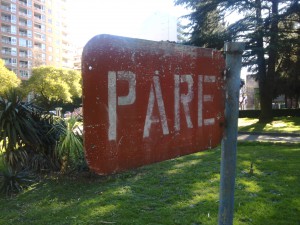 October saw me taking the train to London for more Litro related activities. Listen Softly London, who run regular live literature events at The Crown in Southwark, had invited myself and fellow Litro writers Dan Coxon and Reece Choules to read with fuzzy-felt storyteller Ceri May and the Yeti-poet, Gary from Leeds. I read from my story 'Villavicencio', another work inspired by my travels in Argentina. It is a story that I have recently sent out to a number of magazines, so I'm hopeful that it should find its way into print in the near future.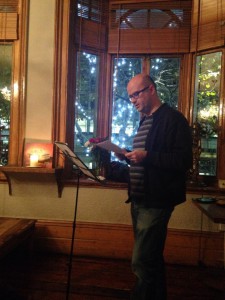 Finally, Litro have published my short story 'Kids Come Looking. Kids Come Back' in their anthology Transatlantic. This is available in the US on Kindle or via an Oyster ebook subscription. There are some fantastically talented up-and-coming writers included in this anthology, and it is a real honour to have been included in their ranks.