Summer is almost here, so I thought it was time for another blog entry, and a roundup of what's been going on with my unscholarly jottings. Not a huge amount. It has been difficult to find as much time to write as I would have liked, but this always seems to be the case. Progress with my novel remains, shall we say, on a geological timescale. Over the winter  and spring I have managed to complete a number of stories, which will hopefully find the light of day in a publication near you, dear reader, very soon. Indeed, one of these stories has already found a home at the brave and beautiful journal, The Missing Slate. It is called 'The Last Man of Epecuén' and can be read by clicking on the photo below: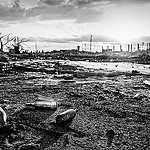 The story was sparked by seeing photographs posted on the Pueblos Buenos Aires Facebook page of a town called Epecuén which recently emerged from nearly twenty years of submersion beneath a saltwater lagoon in the hinterland of the province of Buenos Aires. The photographs were eerie and surreal.  It seemed like the ideal setting for a ghost story of sorts.
Another of my stories, 'Kids Come Looking, Kids Come Back' has been published as part of Litro Magazine's Hearing Voices anthology, which showcases some of the best writing featured in the magazine in recent years. It is real honour to be alongside writers such as Pulitzer winner, Anthony Doerr. I haven't yet been able to read it cover to cover, but I already know some of the stories included from the magazine. 'Seen but Not Seen' by Reece Choules has a fevered intensity about it which perhaps owes something to Kafka or Dostoevsky, but that manages to possess at the same time a distinct and original voice, just one example of the emerging writing talent featured in this volume. Litro have teamed up with Kingston University for this anthology, and so it also includes a number of talented writers associated with Kingston University Writing School, such as Alan McCormick. The anthology serves to demonstrate how important literary journals are to emerging writers in giving them the encouragement and exposure needed to take their writing to the next stage of their careers.
Finally, and perhaps most excitingly of all, Lighthouse Literary Journal, which I co-edit alongside a whole merry team of editors, has won the Saboteur Award for Best Magazine, 2015. I have been with the journal  for a little over a year (the magazine has just celebrated its second birthday) and so feel I have played only a very tiny part in establishing this success, but it is nevertheless a hugely pleasing result, especially as it has been voted for by all those amazing people who subscribe and submit to the journal. Bare Fiction were the very worthy runners up. Anyone who has helped to run a literary journal will know just how much hard work it is, what a labour of love, and of how, when the submission pile seems to be an insurmountable task, one wonders whether it is all worth the toil and trouble. These concerns fall away when you spot an exciting story in the submissions folder and are able to put it into print. Giving these stories space and the authors a vital leg-up is what it is all about. Issue 8 contains stories by Tim Sykes and Gareth Watkins and poetry by Annette Volfing and Clive Eastwood, amongst many others. There is also a free PDF sampler which you can download here: http://www.gatehousepress.com/shop/anthologies/lighthouse-issue-8/